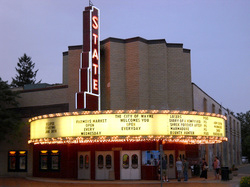 Champions of Wayne proudly presents the premiere of Infiltrators. The movie, produced by WMHS alum Sally Helppie and starring WMHS alum Greg Jbara, will premiere Saturday, September 28, 2013, at the State-Wayne Theatre. All proceeds from the event will go to support Champions of Wayne.
Champions of Wayne will create a Hollywood vibe in downtown Wayne with the premiere of Infiltrators. Special guests include cast members: WMHS alum Greg Jbara; Robert Picardo; Hallee Hirsh; Rocco Nugent; and Film Producer and WMHS alum Sally Helppie, and Writer-Director Michael Stokes. A question and answer panel with the aforementioned guests will follow the premiere of the movie.
What is Champions of Wayne?
Champions of Wayne, a 501c3 non-profit operating at Wayne Memorial and Tinkham Alternative High Schools, is an innovative and unique educational program that involves adult mentoring, customized academic goals, and financial rewards. Champions was initiated in 2009 as a start-up program involving 50 students and a handful of mentors. Program popularity has exploded in recent years, as 550 students and 130 mentors participated this past semester.
Participation in Champions has changed the lives of many Wayne students. While students at risk of dropping out increases, the percentage of students completing 9th grade has doubled since 2009 and one WMHS grad begins at Harvard University this fall.
Whether it be purchasing a ticket to the premiere, or purchasing one of our sponsorship packages, please consider contributing to Champions of Wayne. Visit our website for more information.
Press
Movie premiere benefits Champions of Wayne (Observer & Eccentric)
Hollywood Comes to Wayne – Midwest Premiere Of Infiltrators At Historic State Wayne Theatre (CBS – Detroit)